Isn't it interesting how "feminists" seem to think that giving away your most precious asset for free is empowering.
Apparently, Sandra Fluke, the 30 year old agitator posing as a doe-eyed 23 year old co-ed is having trouble funding her own sex life, so she wants you and I to help her pay for it.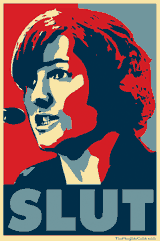 Never mind that Catholic girls are supposed to wait until marriage to have sex - our 30 year old slut thinks that is outdated, and instead of respecting the fact that not all women want to be sluts like her, she makes it her personal mission to turn Georgetown U into a brothel. Misery loves company, I guess.
Has anyone stopped to consider why they are so hell-bent on making sure girls become sexually active the second they stumble across a willing male? This is starting in elementary school - the worst cases have school administrators giving the go-ahead to handing out birth control to kindergartners. Why?
Do you really think the reason behind this is concern for the girls' well-being? I do not. I think that the powers-that-be think we are animals and they want us to think of ourselves as such as well. We don't even get to be animals with standards - even in the animal kingdom there are plenty of species who are quite discriminating when it comes to the selection of a mate, and they are monogamous, too. No, we get to be the rats - but at the same time, they sure do not want us multiplying like rats - enter ubiquitous access to contraception and abortion. Please keep your focus on the sexual act, that is the goal - anything that results from your enjoyment is just a pesky little side effect and here, take one of these it'll make that go away.
There is nothing special about sex - there is nothing special about the creation of a new life - heck, it is better to wind up with a case of the clap than an unwanted pregnancy, right? Luckily, we have Planned Parenthood to come to the rescue. Such a wonderful organisation - always there to give you that abortion when you need it - and make no mistake - that is what Planned Parenthood is for - if Planned Parenthood's founder, Margaret Sanger were alive, she would tell you herself.
Margaret Sanger had her own ideas about the world. First off, she saw it as her mission to do away with the "negro race". Shhhh - don't tell. They might not like that, so keep that to yourself. But, dear Margaret was not fond of the riff-raff and rabble of any color, so if you are
not
black and are feeling a bit superior, stop it - because she probably would have done away with you, too.
So, you see we have a bit of a paradox here. Our happy
Eugenicists
think the world is crowded, and they are busy doing something about that. They encourage promiscuity - to devalue sex - and then provide you an easy way to deal with the side effects - to devalue you. That is what this is really about. Devaluing you to the point where it is no big deal to have the
little you
ripped out of your womb, and if the
little you
is of no value, it is not a long walk down this path until we decide that the big you is kind of superfluous, too. After all, every time you exhale you are contributing to their contrived global warming emergency.
So, how about you get some self-respect, keep your legs shut like a nice girl, and go on and lead a happy, productive, worthwhile life. Give sluts like Sandra Fluke a big kick in their rather large arses.
RH
Arguing for the killing of newborns as moral